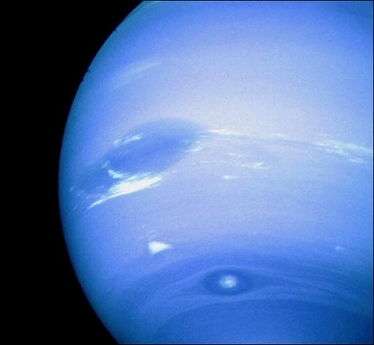 2001 shows the planet Neptune. An international team of astronomers say that Neptune, long dismissed as a cobalt-blue gas giant cloaked in deathly cold, has a relatively warm south pole. (AFP/NASA-HO/File)

Neptune has a 'warm' south pole
AFP
PARIS - An international team of astronomers say that Neptune, long dismissed as a cobalt-blue gas giant cloaked in deathly cold, has a relatively warm south pole.
Temperature maps, made using Europe's Very Large Telescope (VLT) located in the Chilean desert, show that Neptune's south pole is warmer than anywhere else on the planet by about 10 degrees Celsius (18 degrees Fahrenheit), the team says.
By earthly standards, this may not seem much of a deal. But compared to an average temperature on the Solar System's outermost recognised planet of a frigid -200 C (-392 F), the south pole is almost balmy.
The warmth differential is enough to let methane gas, which elsewhere lies frozen in Neptune's upper atmosphere, to leak out through the south pole and into space.
France's National Centre for Scientific Research (CNRS), in a press release on Tuesday, said the phenomenon is due to Neptune's agonisingly long orbit.
A Neptunian "year" is the same as 165 Earth years, for this is the time the distant planet takes to circle the Sun.
Because of the planet's tilt, the south pole has been exposed to the Sun for the past 40 years, creating a relative "hot spot," the CNRS said.
Eventually, as Neptune continues its crawl around the Sun, the south pole will be darkened and the north will be illuminated, and the methane escape will shift there.
"In 80 years, when Neptune's north pole emerges into summer, we can expect the situation to be reversed," the CNRS said.
Glenn Orton of NASA's Jet Propulsion Laboratory (JPL), who also took part in the research, said the fact that Neptune's "summer" lasted decades had a big impact on its climate system, for some regions were bathed in continual sunlight and others locked in enduring darkness.
"This is a likely factor in Neptune having the strongest winds of any planet in the Solar system," he said. "Sometimes, the wind blows there at more than 2,000 kilometres (1,200 miles) an hour."
Tags

Share your thoughts in the Forum